Women in science
The world needs science, and science needs women. At Skretting AI, we have many talented scientists, and a large portion of these are female. Here, you can meet a few of them to learn what inspired them to work in science, and what this means to them.
Diana is a Researcher at Skretting AI. Watch this video to learn more about her work and what advice she has to offer to young people who are curious about science.
Meet Beate
Beate Johansen is the manager of Skretting AI Feed Technology Plant, where we produce 90% of our experimental feeds.
"I was lucky with getting my job in the technical department in Skretting Norway 20 years ago. This opportunity eventually led me to Skretting AI, where I started working as manager for the Feed Technology Plant. Here I am able to lead a team of 10 highly experienced people, work closely with all departments and combine different subjects with solutions. I enjoy being close to the people and production and how a great team can bring great results. This gives me energy and a big smile."
When asked what she likes the most about working with science she says: "I enjoy the everyday challenges, how it brings out new innovative and creative solutions and the great feeling of achieving results".
Meet Leidy
This is Leidy Lagos, a fish nutrition researcher in Skretting AI. She holds a degree in Biochemistry and a PhD in Biotechnology within Fish Immunology.
"I decided to work in science because I think it is fascinating to see how knowledge can contribute to solving most of the problems that we are facing now and in the future," says Leidy.
About working in Skretting AI, she says "Skretting focuses in the areas that I think are most relevant right now: health, nutrition and sustainability. Currently the need for more sustainable protein source to feed our growing population challenges our previous knowledge on nutrition. We need to think new!"
Leidy also likes to send a message to her peers: "We are not women in science, we are scientists and we are the ones responsible for making it easier for more women to become great scientists." She continues: "If you are always curious, if your call is to contribute to solving new problems and you never stop asking questions, then science might be your path."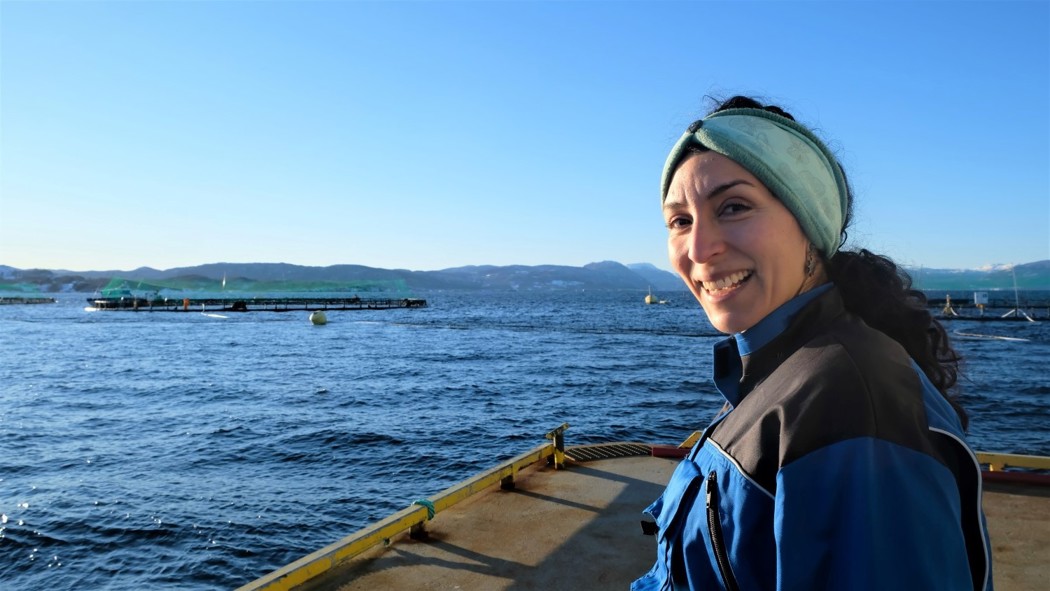 Meet Satvir
This is Satvir Kaur Bhatti. "My academic background is in analytical chemistry with chemometrics. In Skretting AI I am specialised in the near-infrared (NIR) instruments and equations."
Satvir's curiosity accompanied her throughout all her career in science: "It all started with me being curious to know how different medicines worked out. How does this paracetamol know which area of my body is hurting? This led me to choose a bachelor in pharmaceutical chemistry," she says.
Ten years later when she joined Skretting AI she fell in love with the NIR technology. "I was really curious to know how the NIR instrument worked."
To children interested in science she advises: "be savvy, be persistent, be fearless and ask questions."
Meet Delphine
This is Delphine Crappe, scientist and team leader in Skretting AI's new biotechnology facility called The Bubble.
Together with her team, Delphine is using new methods to understand better how the immune system of fish and shrimp work. About her journey to become a scientist, she says: "I have always been intrigued with the world around me and I was always asking a lot of questions like 'how are the fish breathing in the water?' I started getting more and more answers in secondary school and during my last year I had a fantastic biology teacher and that's how I decided to study biology. Nature and life are really fascinating and there are still so many things we don't know about it!"
To children curious about science she advises: "Follow your curiosity, use your imagination and creativity. Be open to new ideas and you will make many new discoveries."
Marit is a NIR Data Analyst at Skretting AI. Watch the video to hear about her work and what she loves about working in science.