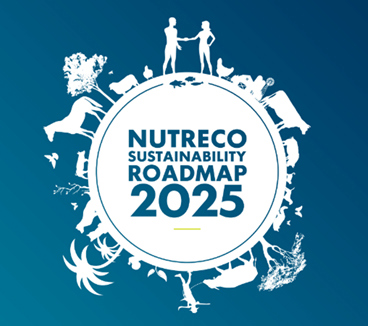 Integrated Policy Quality, Environment, Health and Safety
Skretting Italia S.p.A., a company of the Nutreco group, considers quality, innovation and sustainability to be the guiding principles for carrying out its activities in the aquaculture sector.
The strategic and operational choices are based on Nutreco's Mission (Feeding the Future) and its Vision (positioning the company as a global leader in the supply of innovative and sustainable nutritional solutions such as to best support the performance of animals, fish and shrimp).Trust, Inclusivity, Curiosity, Integrity and Passion are the five fundamental values through which the Mission is pursued.
Skretting Italia S.p.A. considers it a priority, such a main operator in the
food chain, to help meet the food needs of a growing population in a
safe and sustainable way. The strategy adopted is reflected in the
Nuterra Roadmap 2025 which defines the objectives to be achieved by
2025. The main three pillars of this policy are: - Health & Welfare;
Climatic & circularity and Good citizenship. Our strategic ambitions
falling under these three pillars are: Anti-microbial resistance;
Greenhouse Gas (GHG) emission reductions and Diversity & Inclusion.
Moreover, Skretting Italia uses only raw materials noOGM.
Skretting Italia S.p.A. pays constant and priority attention to quality, product safety, respect for the health and safety of workers and respect for the environment as they are considered strategic pillars for satisfying the expectations of the interested parties, as well as the final consumer.
This is accomplished through:
Nutreco Ethical Code which defines the guidelines for carrying out company activities
Standard Nutrace (quality and food safety program)
Standard Nuterra (sustainability program)
Nutreco Standard NuSafe
Nutreco Policy for Quality, Environment, Health and Safety of workers.