Recirculating Aquaculture Systems (RAS)
We are the global leaders in RAS
Skretting leads the way in the development and supply of feeds designed specifically for recirculating aquaculture systems (RAS). This journey dates to before 2009, when we became the first company to launch commercial RAS feeds. We have continued to pioneer advancements in this space ever since.  
About RAS
Recirculating Aquaculture Systems are land-based aquaculture facilities that reuse water by cycling it through a filtration system so it can be used again. The highly sustainable nature of these operations reduces the amount of water and space needed for aquaculture. The population of RAS-based facilities has grown exponentially and more are being implemented worldwide, year after year. The increased use of RAS represents a paradigm shift for aquaculture as they are becoming the standard, not only for early stages in freshwater, but the entire life cycle for many species.
RAS facilities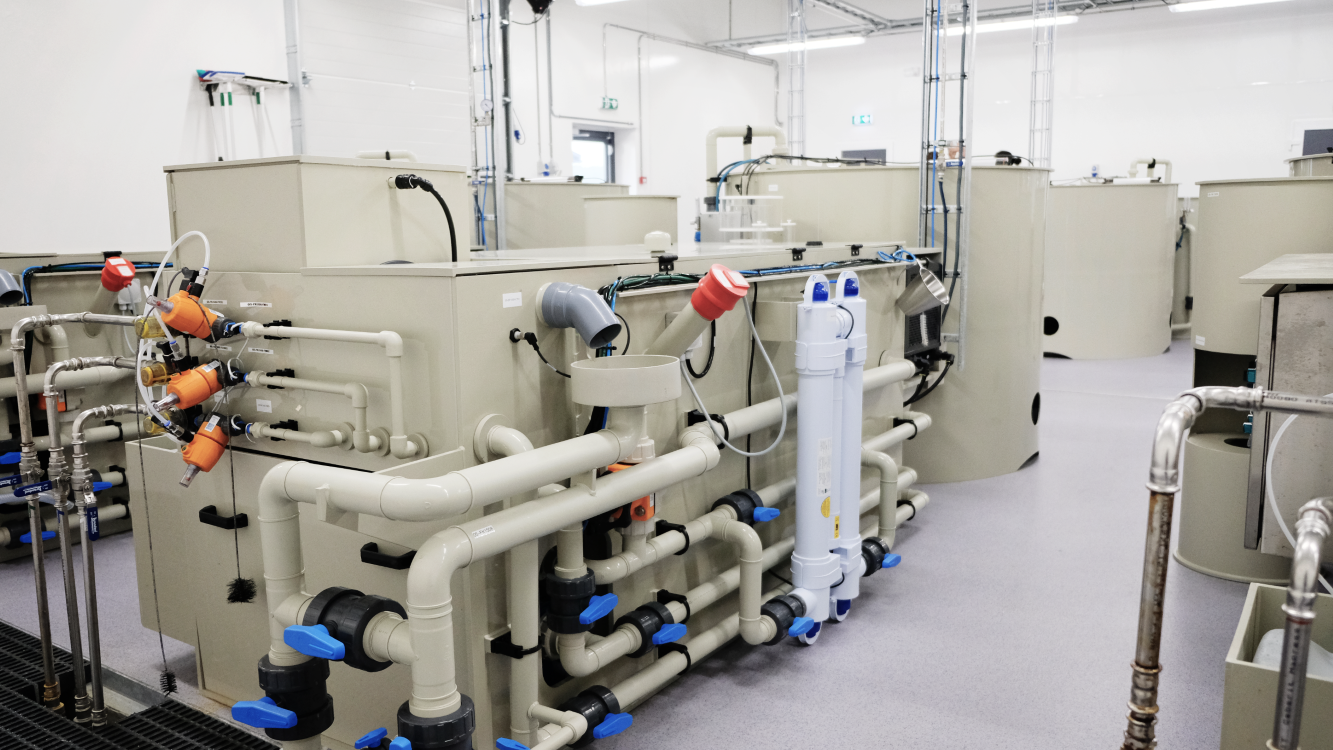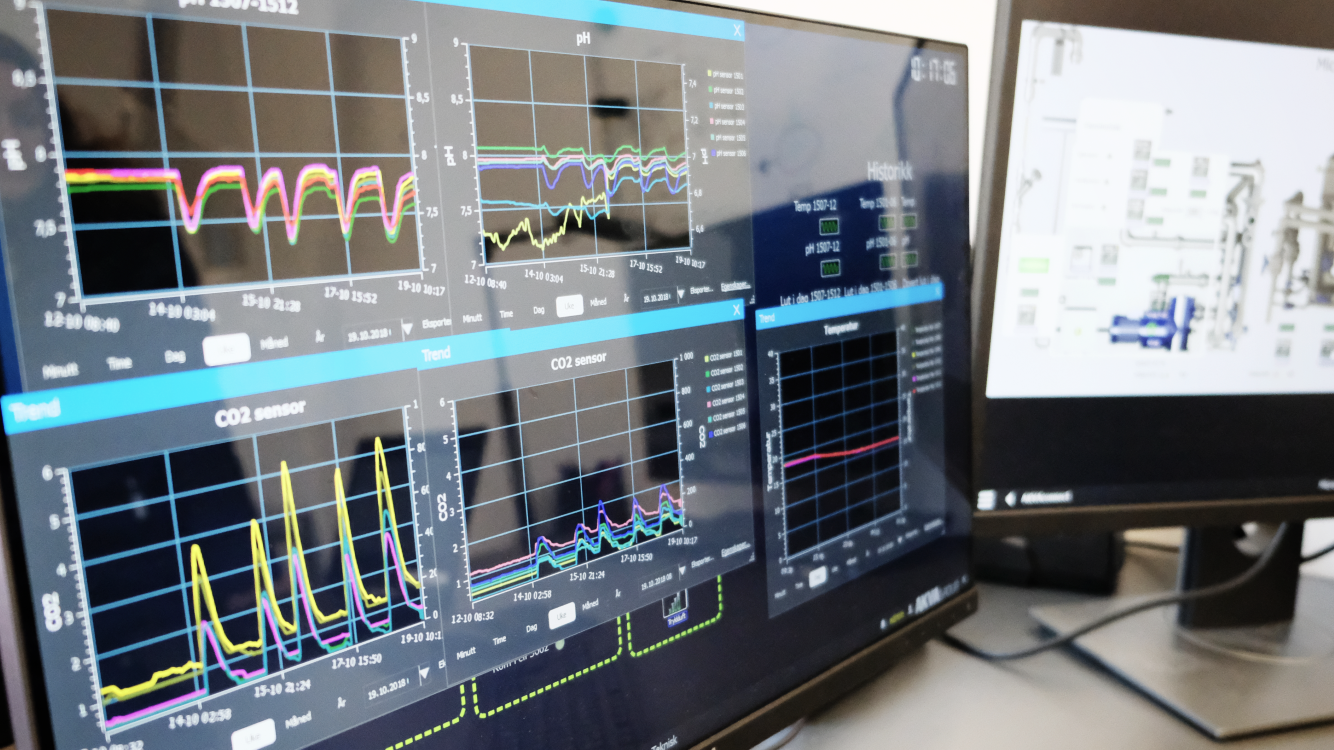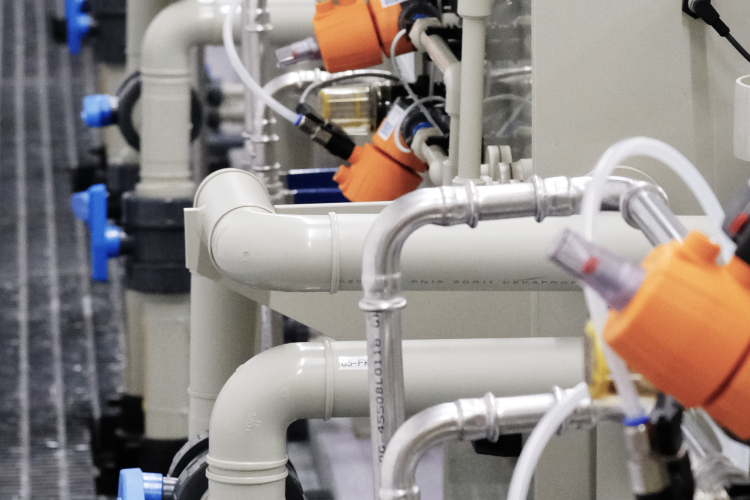 RAS technical guidance
As part of Skretting's longstanding commitment to support this rapidly growing land-based aquaculture sector, our ambitious research and innovation teams are continuously working on new solutions and products aimed at meeting the growing needs of our RAS customers worldwide.  
Our RAS techncial guidance aims to help our new and existing customers navigate potential issues with RAS and to also provide an easy, up-to-date way to access public information from a variety of sources.
RAS farming can be a fully controlled system offering a number of advantages and opportunities. Firstly, it alleviates the need for aquaculture to be in an existing environmental ecosystem that complements the species. This allows the convenience of diversity with species and location. Secondly, the overall health and growth of the species can be improved as water quality is carefully monitored to ensure conditions remain optimal. Some of the parameters monitored regularly include oxygen, carbon dioxide, pH, temperature, nitrite, nitrate and ammonia. Finally, RAS also requires very little water and space making it much more sustainable in comparison to traditional methods.
RAS come with their own unique challenges, in particular maintaining consistent water quality. The filtration of organic matter (physical and dissolved waste) produced by the aquaculture species needs to be efficiently removed by the system in order to reduce the water pollution. The system uses an array of filters including a live microbial filter (bio-filter) that is key in removing and reducing harmful dissolved waste. It is essential that all other filters remove excess waste and nutrients so that the microbial balance remains in this filter. It is imperative to only use optimal diets to decrease waste output and maximise filtration in order to maintain high quality water conditions thus improving growth, FCR, product availability and increased biomass.
RAS research
Skretting has invested many research resources into RAS because of their potential to enhance the sustainability of the aquaculture industry. We have three dedicated RAS-based research facilities across the world, each of which has a unique focus. Our central RAS team at Skretting Aquaculture Innovation (AI) is comprised of many knowledgeable researchers, specialising in these systems.
RCX
One of our most recent innovations for the RAS segment is our RCX concept. RCX builds upon our previous market-leading range, RC, but goes further by ensuring consistent structural integrity through a certified quality assessment.
An industry first
Skretting's dedicated concept for RAS, RecircReady, was introduced to the global aquaculture market back in 2009 - an industry first. The concept takes into account modelling capabilities, nutrient recycling solutions and health monitoring in addition to tailored feed solutions, and was designed to provide farmers with the best possible solution to optimise land-based production.
Stories on RAS
Atlantic Sapphire ASA and Skretting enter agreement to secure local feed supply
Skretting and Atlantic Sapphire ASA ("Atlantic Sapphire" or "the Company") are pleased to announce Skretting's intention to construct a specialized state-of-the-art feed plant for land-based salmon in Florida to serve Atlantic Sapphire's US operations with market-leading feeds specialized for Bluehouse farming.
Skretting wins global contract to supply Atlantic Sapphire in Denmark and USA
Skretting announces today that it has won the contract to supply Atlantic Sapphire with majority volumes from November 2019. The contract covers the majority of Atlantic Sapphire's feed requirement in Denmark and the USA.