Inspiring Egyptian aquaculture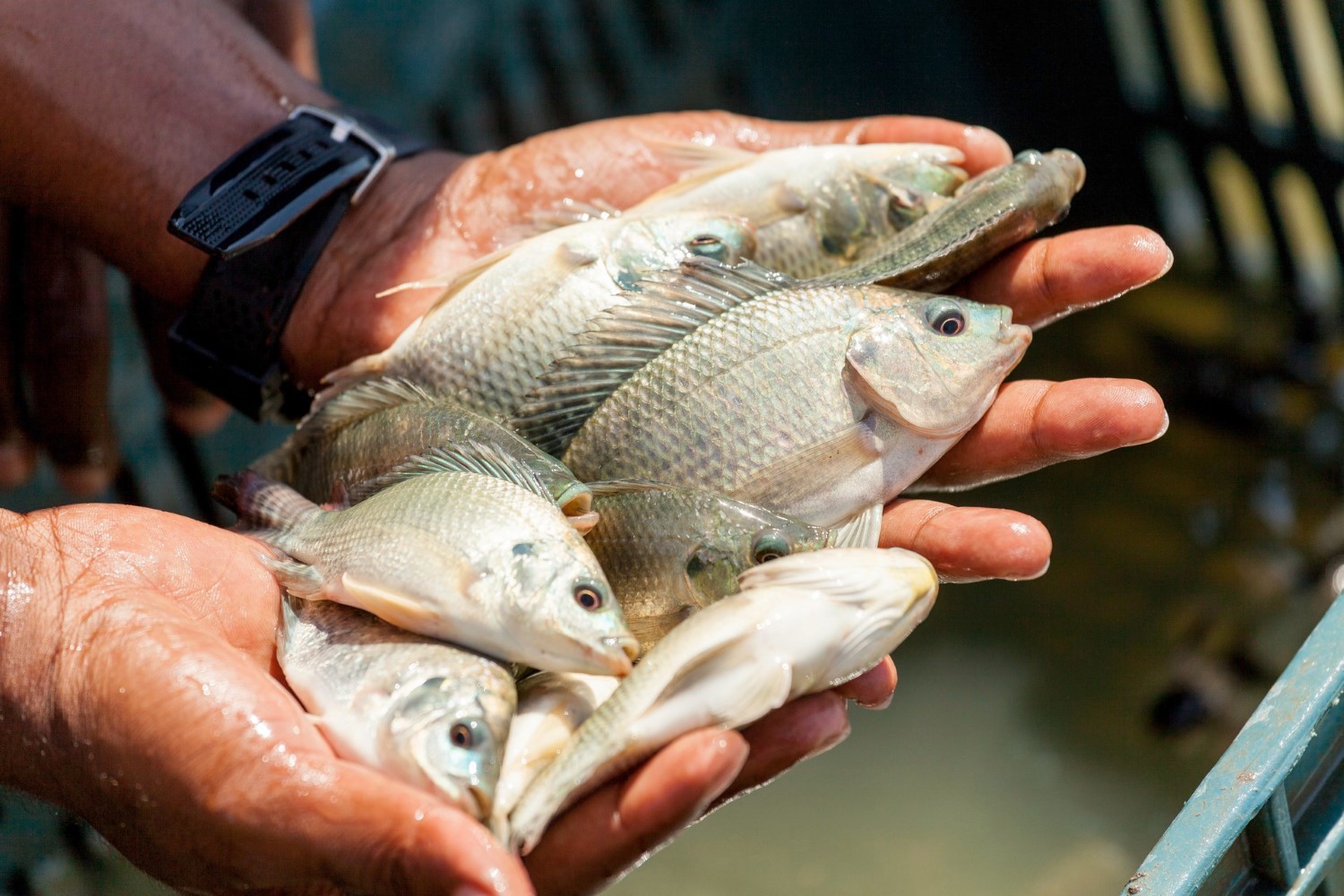 Skretting continues to bring the global expertise that is enabling the tilapia sector to flourish.
Egyptian aquaculture has almost trebled since 2005 and will continue to grow thanks to a booming tilapia sector
Established in 2008, Skretting Egypt is local market leader, and also ideally located to supply the aquaculture expansion of other African countries
When it comes to farmed fish, tilapia is a global phenomenon. Its affordable price, omnivorous diet, tolerance to high-density production methods, fast growth rates and strong resistance to disease challenges have made it a very important protein source and a vital income and livelihood provider for millions of people.
Nile tilapia is the cornerstone of fish farming in Egypt, which is by far the biggest aquaculture producer in Africa. With 900,000 tonnes of tilapia harvested annually, the country has risen to become the sixth largest aquaculture producer in the world. Its total aquaculture output (all species) of 1.4 million tonnes now exceeds that of the salmonid farming giants of Norway (seventh-placed) and Chile (eighth-placed).
"Going back only as far as 2005, Egypt's total aquaculture production stood at a modest 500,000 tonnes, so you can see how far it has come. Our role as the market leader is to support Egyptian farmers by helping them to maximise farm productivity. This is being accomplished by our sales and technical support team. We are also leveraging Egypt's aquaculture industry through the excellent cooperative relationships we have established with international and national NGOs," says Ayman Rostom, General Manager Skretting Egypt.
Modern focus
While the culture of Nile tilapia can be traced back to ancient Egyptian times, it's the country's current high population growth and an increasingly active agriculture sector that have driven the dramatic rise in the number of smallholder farmers starting new aquaculture ventures. These new fish farmers have also been encouraged by the government's public backing of fish farming as well as the country's increased per capita consumption of fish, which has now reached a level of 16 kg per annum.
To support the sector's rapid growth, there has been a considerable increase in the number of local fish feed plants supplying the market. However, it was the arrival of Skretting, the world's leading aquaculture feed company, and the establishment of its local company Skretting Egypt in 2008 that brought the importance of high-quality diets to the attention of the country's fish farmers.
Today, Skretting Egypt is the clear market leader and also the preferred feed partner for many fish farmers.
"Our number-one priority throughout the past 10 years has been to maintain a very close relationship with all the fish farmers in Egypt. This commitment is part of our DNA and has undoubtedly brought a lot of success to Egyptian aquaculture. The farmers confide in us and trust us to always work in their best interests as they continue to advance," says Salah Abd El Kader, Sales & Technical Support Manager at Skretting Egypt.
Ground-breaking innovation to support African development
With the aquaculture sector growing increasingly competitive, it becomes even more important to focus on fish health, efficiency, quality and lower costs and to utilise technological developments. Therefore, Skretting has been applying its world-class expertise to the market, capitalising on the fish farmers' growing thirst for knowledge and their determination to adopt best-practices.
At the start of this year, Skretting Egypt launched a new product - Nutra for tilapia - to the local market. The Nutra range consists of high-performance starter diets supporting first-feeding fry by providing the specific nutrients and right particle size for each life stage – from egg to fingerling. Providing high survival rates and robust young fish, these specialised feeds will contribute to the improved performance of hatcheries in Egypt and beyond. In fact, Nutra is already on its way from Egypt to Kenya, Uganda, Cote d'Ivoire and Mali.
The introduction of Nutra was recently followed by Protec for tilapia, a new functional diet especially designed to help support tilapia and enhance their ability to cope with during challenging situations, including the hot summer seasons. Essentially, Protec for tilapia helps to support the natural defences of the fish, it supports the immune system and it optimises the balance between fish, microbes and environment.
The two diets are the result of a series of comprehensive trials across multiple global locations coordinated by researchers at Skretting Aquaculture Research Centre (ARC), and both have been welcomed by Skretting Egypt's customers.
Egyptian tilapia farmer Beshir Atteia states: "Using Protec in the middle of summer gives the farmers starting with 1-gram fry the opportunity to reach the local marketable size in a very reasonable time frame. This is because it supports tilapia; helping them to overcome the high temperature season. It stabilises the feed intake, which means we don't have to stop feeding during these periods."
Prof. Ahmed Barania, Vice-President of the Egyptian Cooperative Union for Aquaculture and Fisheries, comments: "While I'm not specialised in aquaculture, I am an economist. Therefore, I understand the importance of Nutra for our market and I also believe that by introducing it to the Egyptian market, it will add huge value to Egyptian fish farmers."
Skretting Egypt is ideally positioned to export its diets throughout Africa, meaning these and other innovations will support the evolution of the continent's aquaculture sector and also cement tilapia's position as an essential food product. With the African population now at more than 1.2 billion people and fish consumption growing in many regions, Skretting will continue to live up to its group-wide mission of 'Feeding the Future'.
Stories on tilapia
State-of-the-art nutrition: Latest feed highlights Skretting's dedication to the tilapia sector
Tilapia is one of the most widely farmed finfish species in the world, and with annual production in excess of 5.5 million tonnes, it is a critically important source of protein and livelihood for many millions of people. The farming of tilapia takes place in a variety of aquaculture systems – everything from earthen ponds and cages to flow through and closed recirculating (RAS) tanks – each with their own unique benefits and challenges. To ensure consistently high performances under intensive conditions, Skretting has launched Optiline, its prime grower feed specifically for tilapia.
Promoting tilapia health in Egypt, Ecuador and Vietnam
Skretting has launched Protec for tilapia - a new functional diet especially designed to help support tilapia and enhance their ability to cope during challenging situations, including the hot summer seasons. Protec is currently available in Egypt, while preparations are ongoing at Skretting Vietnam and Skretting Ecuador for its arrival in those regions.